My boss decided that I had been working super duper hard lately, and so decided to give me a day off :) *wooT*. Anyways, I love to bake, but I rarely get a chance to in the hectic life that is kae, so took today as an opportunity to bake something new.

And what did I decide on? Well, I was flicking through my Biscuits and Slices Book, my Cupcakes Book, my Cheesecake book, and decided I wanted to make a cupcake with a little bit of everything... and so i bring you..

Choc Mint Cupcakes (with Choc Chips) and Choc Mint Ganache Centres... mmm. Chocolate overdose galore :)

Anyways, the recipe was a bit of a mix from everything that I just put together but it turned out pretty well:

Choc Mint Cupcake

1 1/2 Cups Self-Raising Flour
1 Cup Sugar
1/3 Cup Cocoa Powder
1/3 Cup Dark Choc Bits
1/2 Cup Milk
1/2 Cup Water
1 tsp mint essence

Preheat oven to 180'
Mix all ingredients till smooth (its quite a thick mixture) and bake for 20 minutes. If you have an oven like mine where the back is hotter than the front, turn your tray around at 10 minutes.

Choc Mint Ganache
1/2 Cup Dark Choc Bits
1/2 Cup Cream
1/4 Cup Butter
1tsp mint essence

Heat the dark choc bits and butter until melted, and add in cream. Cook cream over low heat.

To make 'em

Take the cupcakes out of the oven and wait till cool.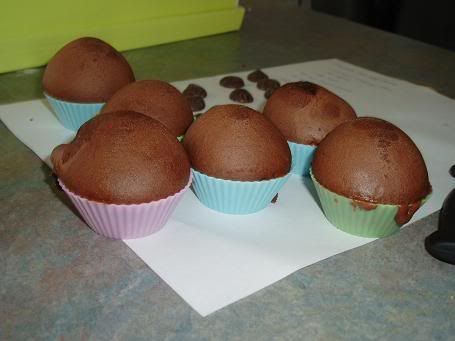 Cut centre bit of cupcake out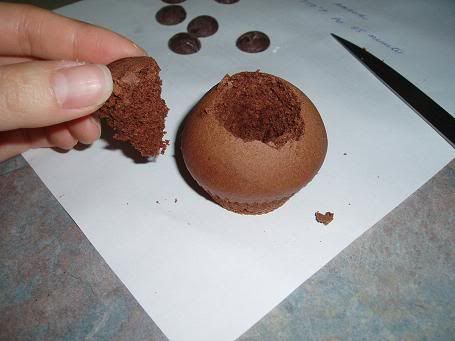 Fill with ganache.


Put centre back in.


Decorate as you please. (I concur that my decoration skill is lacking.. but it makes up in taste)




... Chocolate overload, but OHHH SOOOO GOOOD!